For CROWLEYMAS 2020, the remaining 13 COPIES of the THE WICKEDEST BOOKS are ON SALE for $36.00. This is a savings of $23.00 from the regular price.  Again, there are 13 copies left and no plans to print anymore. SALE lasts on week.
http://shop.dannycarey.org/newly-expanded-3rd-impression-of-the-wickedest-books/
THE WICKEDEST BOOKS IN THE WORLD: CONFESSIONS OF AN ALEISTER CROWLEY BIBLIOPHILE."  The new LIMITED EDITION 3rd IMPRESSION is a sumptuously produced HARDCOVER that contains an updated author's preface as well as lots of additional full-color glossy photos (and associated captions and comments) of the Crowley rarities that were added to the private collections of the author (Blair MacKenzie Blake) and Danny Carey since the 1st impression in 2008 and 2nd impression in 2011.

WRITTEN by BLAIR MacKENZIE BLAKE
PHOTOS: DUNCAN BLAKE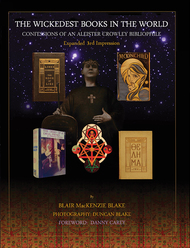 FOREWORD: DANNY CAREY